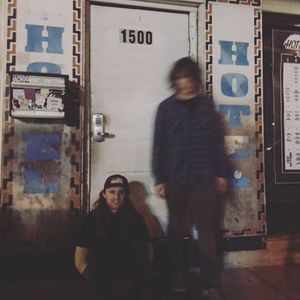 Listen on Spotify, Apple, or wherever you get your podcasts
Ep. 0019 Nolan Potter's Nightmare Band
Josh and Shelby. Captains of Cringe. Nolan Potter. Wizard of Weird. Can you imagine a more appetizing combo? (This is rhetorical. We know peanut butter and celery exists.) We filmed this in his house (with real cameras). This discussion includes topics such as: 1. Nolan's recording setup and process. 2. What really makes The Lord of the Rings special. 3. Is Austin still Austin? Dive deep with us as we swim the murky waters of Nolan. Did that last part sound weird? I'm feeling weird about it. We meant for it to sound cool. Let us know.
Ep. 0018 Hooveriii
Shelbert and Jernie speak to Bert Hoover of Hooveriii about music, the benefits of a label, and navigating the digital future via social media. Butterfly in the sky. I can go twice as high. take a look. It's in a podcast. A Couch Radio.
Ep. 0017 Runnner
Shelby and Josh speak to Noah of Runnner. They discuss the song 'Eggshell', the recording process, and his upcoming February album release. He is now one of our best friends you can ask him he'll definitely say the same thing.
Ep. 0016 Ambrose of The Murlocs and King Gizzard & The Lizard Wizard
Shelby and Josh chatted with Ambrose Kenny-Smith!  Amby talks about his early obsessions, where his work ethic comes from, and reveals the origin of his Shrimp nickname. The Murlocs' latest record, 'Rapscallion' is available everywhere! If you're a fan of delicious sonic flavor, this is absolutely for you. 
Ep. 0015 The Black Angels
Shelby and Josh [First Names] sit down with all 5 members of The Black Angels in Josh's living room. The Black Angels are an American psych rock band hailing from Austin, TX. They talk about their sick single "El Jardin" and their new record "Wilderness of Mirrors" out NOW! They also touch on post-pandemic touring, gear, and why it's important to not put limits on art. 
Ep. 0014 Zak Olsen of Traffik Island, ORB, and More
Josh and Shelby made a long distance call to Zak Olsen [Traffik Island, ORB, Hierophant, The Frowning Clouds] in Melbourne on April 27th, 2020. Zak is a stellar, prolific songwriter and multi-instrumentalist wizard who doesn't pigeonhole himself to a single genre. He's diligent to the craft and usually chooses to spend his days in his studio. He's most likely there right now. Like, right now. Traffik Island's newest record is titled 'Sweat Kollecta's Peanut Butter Traffik Jam' and it's a genre-bending, beat-driven, groovy record that you should check out right meow.
Ep. 0013 The Paranoyds
Shelby and Josh talk to Lexi and Staz from The Paranoyds. They create scowling,  grungy garage rock goodness with clap-along twee. These LA natives came on the show to talk about surreal experiences, songwriting,  and most importantly to announce their new sophomore LP, "Talk, Talk, Talk" via Third Man Records [Due out September 9, 2022]! 
Check out the music video for their single, 'Lizzie' now!
Ep. 0012 The Feelies
Josh and Shelby call Glenn and Bill of The Feelies. This legendary band talks about their creative process, their perspective on success,  what it's been like to meet music icons and more. Your hosts also learned that when the phone is plugged into the charger it creates a helicopter sound.
Ep. 0011 Danny Gonzalez of Jacuzzi Boys
Chelby and Joosh talk to Danny Gonzalez, the bassist of Miami Garage Rock trio, Jacuzzi Boys. Danny shares what it's been like to record multiple records, tour periodically for over a decade, and open for The Raconteurs. Jacuzzi Boys just released two new jams via Third Man Records. Find them on Bandcamp, Spotify, Apple Music, and everywhere else. Follow @jacuzziboys for new tunes, tour dates, candids, videos, art pieces, and more. 
Song Credit: The Pits by Jacuzzi Boys
Ep. 0010 Nick Van Bakel of Bananagun
Ep. 0008 Tim Presley of White Fence
Ep. 0006 Frankie and the Witch Fingers
Ep. 0005 Go Kurosawa of Kikagaku Moyo